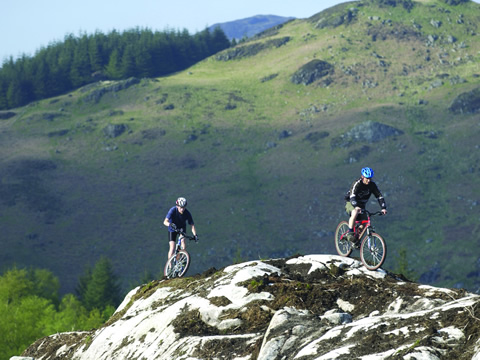 MOUNTAIN BIKING IN DUMFRIES AND GALLOWAY
We are very lucky to be located in and around one of the UK's best spots for mountain biking. There are a number of the famous, 7 Stanes mountain bike trail centres in the area. the closest one to us is in Ae, just 15 miles down the road. These trail centres are perfect places to dial your skills and have an awesome time on maintained and mapped trails. If however you wanted to put your mountain biking skills as well as you navigating skills to the test, the rugged terrain and hills that surrounds us here in Moffat are the perfect place to do so! You can enjoy all the thrill you get from the mapped trails, but it comes with the exciting element of exploration as well, maybe even discovering new places that  will become your very own unique "go to" places to ride.
We have a fleet of mountain bikes here in our shop and know the hills fairly well! If you need any bikes to hire, a coffee for the road or even just advice on where to head out to, then drop in and see us!